Due to our project having a heavy emphasis on acquiring knowledge from community members, our focus for digital literacy is centered around interview etiquette.  We worked with our students to compose emails, make cold calls, and schedule times to visit local farms.  In the communication, students were expected to have conversations with the people that they would be interviewing regarding filming and taking pictures; woven in this, considerations when interviewing our local Nations' Elders.  We created a contract that students were expected to discuss with the interviewees, and if it was appropriate, we asked both the student and the interviewees to sign it.
Below, you will find a link to the document.
We consulted a book, South-Western Vancouver Island Ethnography Primer by Dr. Allis Pakki Chipps-Sawyer for considerations when interviewing Elders.  I have included a summary of the main points in this blog post.
Things to consider as you prepare for going out into the community to acquire knowledge.
Desire

: You must have a desire to learn.

Respect

: You must have respect for those who are willing to tech you and what they teach; also, respect the environment in which you are visiting.

Curiosity

: You will need to be curious in order to discover new things.

Determination

: You will need to be really determined in order to learn what you wish to learn.

(Chipps-Sawyer, 2014)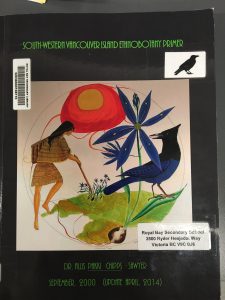 References
Chipps-Sawyer, A.P. (April 2014). South-Western Vancouver Island Ethnobotany
Primer.